Dear Parent/Guardian
Welcome and thank you for taking the time to look at our website.
We hope it will give you an insight into our school and be the beginning of a partnership between home and school which is a converter academy, which we value greatly and will strive to maintain.
Our vision is to create a happy, welcoming, secure and stimulating learning community where everyone is valued and respected. To work together to inspire and challenge all children so they become confident, motivated lifelong learners who have the opportunity to achieve their individual potential.
We will work in partnership with parents and the community to provide high quality learning experiences and a quality environment.
Our school will be a place where differences and cultures are celebrated. Where positive attitudes are promoted so children are well prepared to take their place in an ever-changing technological, multi-cultural society as caring, responsible individuals.
Janet Foster
Headteacher
To ensure our documents are viewed and downloaded correctly on our website please ensure that you have the latest Adobe Reader installed.
Please click on the link below to download the latest version.
Thank you
Latest Events Events
School Closed Training Day

01

Sep

2014

@ School and Nursery

Nursery Open Day

02

Sep

2014

@ Nursery

Please see the Nursery staff for more information.

Back to School!

02

Sep

2014

08:40 am - 15:30 pm @ School

New Term Begins - all day for Year 1 and Year 2 Half Day for Reception Children

Reception Children

03

Sep

2014

08:40 am - 12:30 pm @ School

All Reception Children to attend in the morning and stay for dinner.

Reception Children

04

Sep

2014

08:40 am - 15:30 pm @ School

Reception children in school full time.
Calendars page(s):
Events >>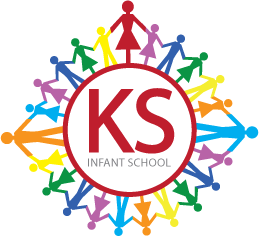 Thank you to everyone of you for your on-going support. "Together we achieve more" for the benefit of the whole school community.
Have a fantastic summer break.
Janet Foster and all the staff.
Comments (8)
Show comments
Lydia
(a couple of months ago)
Love the new website, it's really easy to use and is good to be able to see what the children have been doing at school! Photo's are a brilliant addition and love the calendar on the home page too!
mrs jackie hughes
(a couple of months ago)
Wow, love this new site, very easy to use and lots of information. This school is the best i have ever registered my children/grandchild into. The staff are polite, very helpful and always ensure we are informed of any changes to the school time table or events scheduled, I am so happy my Grandson attends KSI.
Lisa
(a couple of months ago)
The new site looks great. Loads of information and lovely to see the pictures of the children enjoying learning. I found it very useful that the letters are available on there and I also liked all the links to further information. I will definately be visiting this site to more often.
Lauren D'Arcy
(a couple of months ago)
Really like the new website, very informative and useful for parents who don't get the chance to come to school daily.
Graeme
(a couple of months ago)
Great website, Well Done Miss Griffiths!
Caroline Peart
(a couple of months ago)
The website looks fantastic. It is easy to navigate and has lots of information. I enjoyed looking at the photos of the different activities that the kids do during the terms. The up to date calendar on the front page is a really good idea and very useful.
Kate
(a couple of months ago)
Good job on the new website. Full of up to date information and photos and very easy to navigate. A big thumbs up.
Emma
(a couple of months ago)
LOVE the new website!! Loads of brilliant information and photos are fab! Thank you! :]
Kirk Sandall Infant School
Queen Mary Crescent, Doncaster
South Yorkshire, DN3 1JT
| | |
| --- | --- |
| Tel: | 01302 882221 |
| Email: | admin@kirksandall-inf.doncaster.sch.uk |
Kirk Sandall Infant Academy Trust is an exempt charity regulated by the Secretary of State for Education. It is a company limited by guarantee registered in England and Wales (Company Number 8248173), whose registered office is at Kirk Sandall Infant School, Queen Mary Crescent, Kirk Sandall, Doncaster, DN3 1JT